A Rundown on Ascend's Card Controls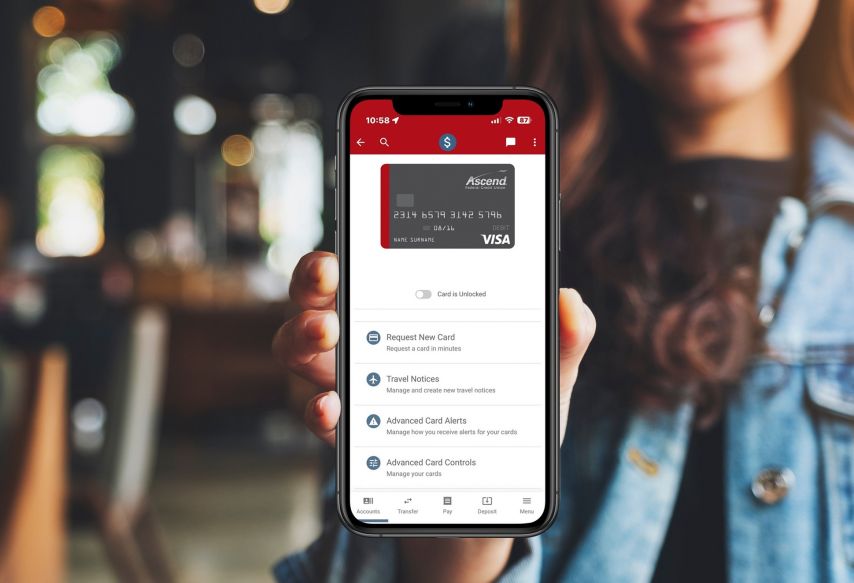 With Ascend's newly revamped Advanced Card Controls, we put you in charge of how and where your Ascend cards are used. Before we delve into the details, let's take a moment to understand what Card Controls are all about.
What are Card Controls?
Card controls allow you to set up rules for when a purchase should or should not go through on your debit and credit card(s). You can also place a temporary suspension on your card(s) in the event you cannot find them, then simply turn it off once it's back in your possession.
Where Can I Find Card Controls?
Accessing Card Controls is simple. Log in to Ascend's Digital Banking platform through a desktop or our mobile app and select your credit card from the list of accounts, then click "Card Services". It's that easy!
Features of Card Controls
Now that we have covered the basics, let's dive into the functions of our Advanced Card Controls:
Block/UnblockCard: Misplaced your card? Lock it and instantly block new purchases and cash advances, while allowing recurring transactions, payments, balance transfers and credits to continue without disruption.
Block International In-Store Transactions: When a credit card transaction takes place at an in-store merchant outside the cardholder's country of residence, the transaction will be declined.
My Regions: With this feature, you can deny in-store transactions if the merchant location is outside a selected region(s). Up to 5 regions may be selected. Transactions that occur outside your selected region(s) after turning on the control will be declined.
Merchant Control: Control the merchant types you would like to allow. By selecting specific merchant types, you can decline transactions at establishments that don't fall within your chosen categories.
Transaction Control: Select the transaction types you would like to allow. Any transaction types you do not select after turning on the control will be declined.
Spending Limits: Set spending limits according to your preferences. Any amount exceeding the specified limits you select after turning on the control will be declined.
Travel Alerts: Notify Ascend about your upcoming travel plans conveniently through our mobile app. This helps ensure uninterrupted card usage while you're away.
With Ascend's Advanced Card Controls, we've created a system that allows you to secure your wallet without leaving the Ascend app. For more information regarding our card control features, click here.