Ascend, TNC Commemorate 10-year partnership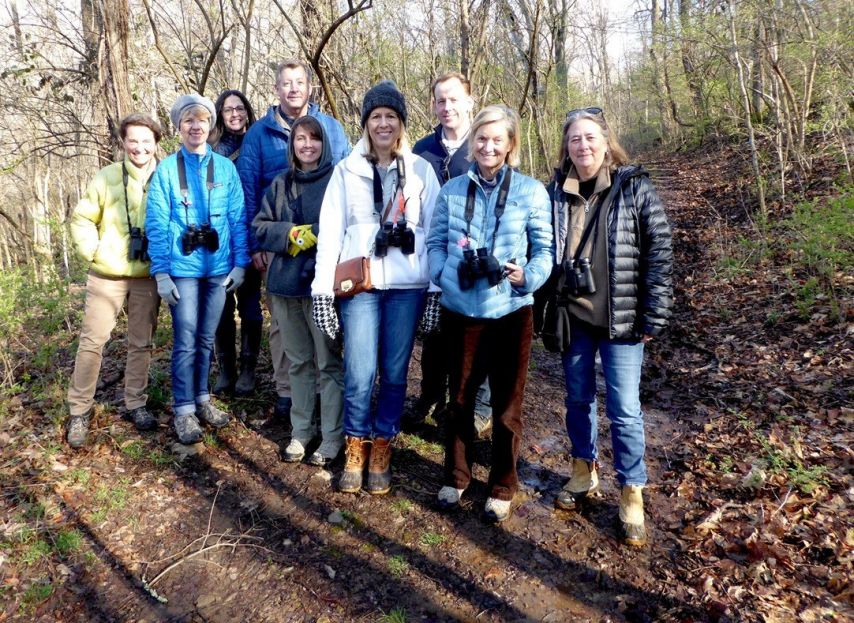 TULLAHOMA, Tenn. – Ascend Federal Credit Union, the largest credit union in Middle Tennessee, which celebrated its 70th anniversary last year, announced its members have contributed more than $1 million to The Nature Conservancy in Tennessee since the non-profit organizations partnered in 2011.
Ascend President and CEO Caren Gabriel has been a member of The Nature Conservancy (TNC) in Tennessee Board of Trustees since 2014. Ascend and TNC share similar traits and values. Both organizations were founded in 1951, are non-profit with a volunteer Board of Directors and focused on improving the lives of the members and communities they serve.
In addition to the partners' financial commitment, the credit union physically demonstrated its commitment to conservation this year by donating 70 trees to Root Nashville to commemorate its 70th anniversary.
"We're so proud of our members for reaching this historic milestone. Planting 70 trees is also a spectacular way to celebrate our 10-year partnership with The Nature Conservancy in Tennessee, as well as coinciding with each organization's 70th anniversary," said Gabriel. "It also perfectly aligns with Ascend's ongoing commitment to financial literacy and environmental stewardship, making Tennessee a better place to live."
TNC is also a partner and advisory board member of Root Nashville. Led by the Cumberland River Compact and Metro Nashville, Root Nashville is a citywide campaign to plant 500,000 trees by 2050. The goals of the campaign are to create an equitable canopy distribution, provide environmental benefits that improve public health, improve air and water quality and create meaningful community engagement.
"I am proud of what we have been able to accomplish together ever since forming a partnership with Ascend—based on shared values and a commitment to community education--to grow both organizations' memberships and impact Middle Tennessee," said Terry Cook, state director for The Nature Conservancy in Tennessee. "Their support helps TNC implement natural climate solutions in communities across the state and work with farmers to protect soil health and keep waterways clean. This partnership is one in which everybody truly wins."
Ascend's recent donation of 70 large trees, each about eight feet tall, were delivered and planted during the week of Oct. 11th in the neighborhoods of Lincoya Hills and Maplecrest in Donelson -- two areas devastated by the March 2020 tornado. Grassroots efforts by community leaders, called "Neighborhood Planting Captains," spread the word about available trees to their neighbors and encouraged them to sign up.
"Thousands of trees were lost in the 2020 tornado, but with partners like Ascend Federal Credit Union, who sponsor the planting of new trees, we are able to continue the replanting process," said Cumberland River Compact Executive Director Mekayle Houghton. "These trees provide not just much-needed shade, stormwater runoff prevention and clean air, but also a sense of hope and progress for these hard-hit communities."
Cumberland River Compact, Metro Nashville and partners worked together to analyze social, environmental, and public health data to reveal areas where trees would provide the most immediate and long-term benefits for the Root Nashville campaign. Neighborhoods including North Nashville, Madison and South Nashville fall within the Root Nashville impact areas. Thanks to all of Nashville's participating nonprofits and government departments, 20,000 trees have been planted since October 2018.
About Ascend Federal Credit Union
With more than 233,564 members and more than $3.5 billion in assets, Ascend Federal Credit Union is the largest credit union in Middle Tennessee and one of the largest federally chartered credit unions in the United States. Based in Tullahoma, Tenn., the member-owned financial institution offers banking, loan, retirement and investment services from its 27 branches, more than 55,000 free ATMs worldwide, online banking portal and mobile app. The credit union's mission is to serve by offering financial literacy education and giving back to its community in a variety of ways — including being the naming rights sponsor of Ascend Amphitheater, downtown Nashville's premier open-air live music venue at Metro Riverfront Park. Ascend is federally insured by the National Credit Union Administration. For more information, visit ascend.org.
About The Nature Conservancy
The Nature Conservancy is a global conservation organization dedicated to conserving the lands and waters on which all life depends. Guided by science, TNC works with a variety of partners to create innovative, on-the-ground solutions to our world's toughest challenges so that nature and people can thrive together. This includes tackling climate change, conserving lands, waters and oceans at an unprecedented scale, providing food and water sustainably, and helping make cities more sustainable. TNC has been working in Tennessee since 1978 and has conserved more than 400,000 acres across the state. Learn more about TNC's work in Tennessee at www.nature.org/Tennessee.