Ascend Donates $50,000 to The Nature Conservancy in Tennessee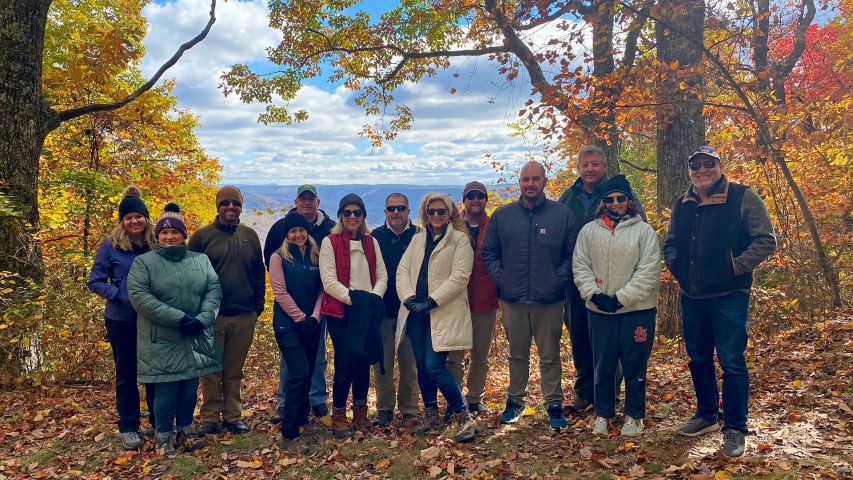 Contribution will help protect and enhance the Duck and Elk Rivers
TULLAHOMA, Tenn., Feb. 20, 2023 - Ascend Federal Credit Union, the largest credit union in Middle Tennessee, announced today that it has donated $50,000 to The Nature Conservancy (TNC) in Tennessee. The gift will support TNC projects to improve the water quality and connectivity of the Duck and Elk Rivers in Middle Tennessee.
"From the day Ascend was founded 72 years ago, we have always believed it is our duty to support organizations that are making our great state a better place to live and raise a family," said Ascend President and CEO Caren Gabriel. "The streams and rivers in Middle Tennessee are not only a beautiful part of our landscape, but they are also among the most biodiverse in the world. We are pleased and honored to support The Nature Conservancy's work to preserve and restore the Duck and Elk Rivers for the enjoyment of current and future generations."
"We are truly grateful for Ascend's support to help us further our mission to protect the lands and waters of Middle Tennessee," said Britt Moses, interim state director and director of philanthropy for The Nature Conservancy in Tennessee. "Contributions from organizations like Ascend are the foundation upon which The Nature Conservancy can continue to deliver sustainable, nature-based solutions to improve our environment, protect our state's rich biodiversity and provide clean water for Middle Tennesseans."
Ascend and its members have contributed nearly $1.2 million since 2011 to fund TNC initiatives. The two organizations are bound by a similar history and values. Both were founded in 1951, are non-profit enterprises with a volunteer Board of Directors, and both are focused on improving the lives of the people they serve. Ascend's Gabriel also has been a member of TNC's Tennessee Board of Trustees since 2014.
The rivers and streams of Tennessee and other Southeastern states support two-thirds of our country's fish species, more than 90% of its mussel species, and nearly one half of our planet's crayfish species. These waterways are threatened by pollution and the many dams and road crossings that disrupt water quality and the natural flow and connectivity of vital wildlife corridors in the region.
Ascend's gift will help TNC secure significant additional federal matching funds for the following projects:
Duck River research: TNC is partnering with the U.S. Fish and Wildlife Service, the Tennessee Wildlife Resources Agency and Tennessee Tech University to conduct extensive studies to help define the water flow requirements for numerous federally endangered species, including freshwater mussels that are found nowhere else on Earth. The studies will help leaders make better decisions about the amount and locations of drinking water withdrawals from the river.
Harms Mill Dam removal on the Elk River: The Harms Mill Dam is a historic site that has fallen into disrepair and become a hazard to Middle Tennesseans enjoying the Elk River. The dam is scheduled to be removed in 2023, which will restore connectivity to hundreds of miles of the Elk River watershed. The project will be the largest and most high-profile dam removal in Tennessee history.
About Ascend Federal Credit Union
With more than 255,000 members and more than $3.8 billion in assets, Ascend Federal Credit Union is the largest credit union in Middle Tennessee and one of the largest federally chartered credit unions in the United States. Based in Tullahoma, Tenn., the member-owned financial institution offers banking, loan, retirement and investment services from its 27 branches, more than 55,000 free ATMs worldwide, digital banking portal, and mobile app. The credit union's mission is to serve by offering financial literacy education and giving back to its community in a variety of ways. Ascend is federally insured by the National Credit Union Administration. For more information, visit ascend.org.
About The Nature Conservancy
The Nature Conservancy is a global conservation organization dedicated to conserving the lands and waters on which all life depends. Guided by science, TNC works with a variety of partners to create innovative, on-the-ground solutions to our world's toughest challenges so that nature and people can thrive together. This includes tackling climate change, conserving lands, waters and oceans at an unprecedented scale, providing food and water sustainably, and helping make cities more sustainable. TNC has been working in Tennessee since 1978 and has conserved more than 450,000 acres across the state. Learn more about TNC's work in Tennessee at www.nature.org/Tennessee.
###