Ascend Donates $20,945 to Susan G. Komen Breast Cancer Foundation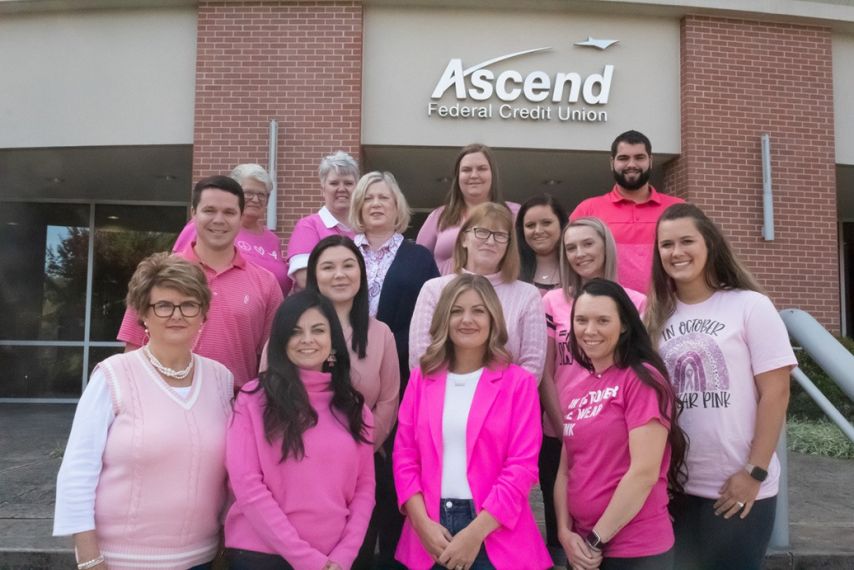 TULLAHOMA, Tenn. – Nov. 7, 2022 – Ascend Federal Credit Union today announced it has donated $20,945 to the Central Tennessee chapter of the Susan G. Komen Breast Cancer Foundation. The contribution includes $18,000 from the credit union – to sponsor the 2022 and 2023 fundraising initiative the MORE THAN PINK Walk – and $2,945 donated by Ascend employees. The money will help fund local breast cancer detection and support projects for those with critical needs, with the goal of eliminating barriers to lifesaving services.
Ascend employees contributed to the fundraising campaign by participating in a casual dress program during October. Employees donated a minimum of $5 every Friday and Saturday to wear blue jeans and breast cancer awareness T-shirts to work. Including this year's donation, Ascend employees have raised $19,123 for Susan G. Komen since 2018.
"On behalf of everyone at Susan G. Komen, I would like to thank Ascend and its employees for their meaningful donation and commitment to supporting our foundation," said Joshua Daniel, executive director of Tennessee, Alabama and Mississippi at Susan G. Komen. "Donors like Ascend are the primary reason why Susan G. Komen can provide critical support to people who are facing financial hardship paying for chemotherapy, pain medication and other services. This donation will help them receive the quality healthcare they deserve so they can live a better life."
"We are honored to continue our 19-year support of Susan G. Komen, an organization that is truly making a difference in people's lives," said Caren Gabriel, Ascend president and CEO. "A culture of giving is rooted in our company's values, and we are proud to help fund Susan G. Komen's innovative research and treatment initiatives that are saving the lives of women in Middle Tennessee and around the world."
Susan G. Komen, the world's leading breast cancer organization, is focused on saving lives and creating a world without breast cancer. Since 1982, Susan G. Komen has collectively invested $1.1 billion in lifesaving breast cancer research. In the state of Tennessee, 1,400 people each week seek help and information from Komen and 95 counties in the Tennessee area are served by Susan G. Komen breast cancer services.
About Ascend Federal Credit Union
With more than 240,000 members and more than $3.7 billion in assets, Ascend Federal Credit Union is the largest credit union in Middle Tennessee and one of the largest federally chartered credit unions in the United States. Based in Tullahoma, Tenn., the member-owned financial institution offers banking, loan, retirement and investment services from its 27 branches, more than 55,000 free ATMs worldwide, digital banking portal, and mobile app. The credit union's mission is to serve by offering financial literacy education and giving back to its community in a variety of ways. Ascend is federally insured by the National Credit Union Administration. For more information, visit ascend.org.
###