Ascend Donates $20,000 to Two Middle Tennessee Chapters of the American Red Cross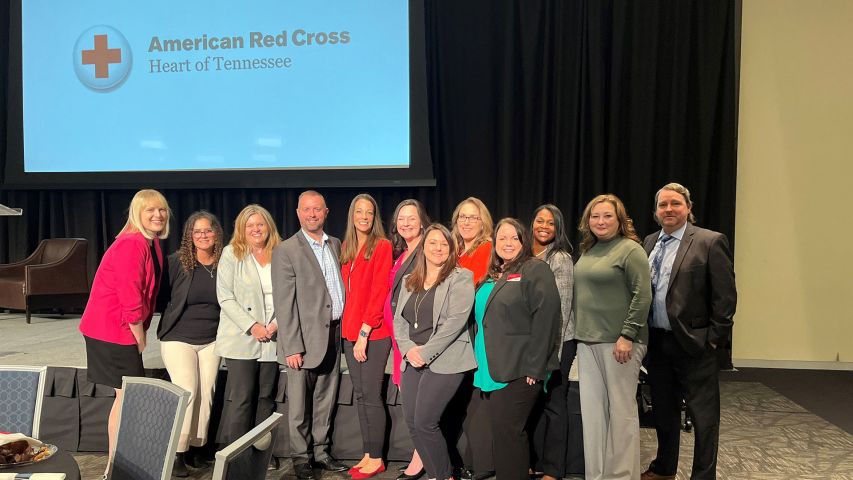 TULLAHOMA, Tenn., April 4, 2023 - Ascend Federal Credit Union, the largest credit union in Middle Tennessee, announced today that it has donated $20,000 to the American Red Cross to be split evenly between the Heart of Tennessee Chapter, which serves Murfreesboro and surrounding counties, and the Nashville Area Chapter.
The gift went to support the Heart of Tennessee Chapter's Heroes Breakfast, where Ascend was the presenting sponsor, and the Nashville Area Chapter's Lifesaver Luncheon. Both events celebrate and honor local leaders and volunteers for their acts of humanity, compassion, bravery and service to their communities. Funds raised from the events will help the American Red Cross deliver critical services to the communities being served by each chapter.
"Ascend is honored to support these events that recognize and generate awareness about the extraordinary people who are making a lasting impact in Middle Tennessee," said Ascend President and CEO Caren Gabriel. "From the first day that Ascend was founded, we have always been dedicated to partnering with organizations that are meeting the critical needs of families in our state. We commend the American Red Cross for its service and look forward to continuing to support its Middle Tennessee chapters."
"We are humbled yet again by Ascend's generous gift," said Regional Executive Officer for the Tennessee Region of the Red Cross Joel Sullivan. "From supporting blood drives to disaster relief programs, Ascend has been a valued, dedicated partner whose donations have helped us fund initiatives to provide life-saving services and support to the people in the communities we serve in Middle Tennessee."
Ascend has been a longtime supporter of American Red Cross chapters in Tennessee through employee and member fundraising campaigns, blood drives, emergency response donations and event sponsorships. In addition, Ascend Chief Strategy Officer Leslie Copeland serves on the board of directors for the Heart of Tennessee chapter.
The donation comes from Ascend's Charitable Donation Account (CDA), which was established in November 2017 by its Board of Directors. The CDA allows Ascend to generate revenue from investments to support various charitable endeavors. In total, Ascend has contributed more than $100,000 to local American Red Cross chapters.
About Ascend Federal Credit Union
With more than 240,000 members and more than $3.8 billion in assets, Ascend Federal Credit Union is the largest credit union in Middle Tennessee and one of the largest federally chartered credit unions in the United States. Based in Tullahoma, Tenn., the member-owned financial institution offers banking, loan, retirement and investment services from its 27 branches, more than 55,000 free ATMs worldwide, digital banking portal, and mobile app. The credit union's mission is to serve by offering financial literacy education and giving back to its communities in a variety of ways. Ascend is federally insured by the National Credit Union Administration. For more information, visit ascend.org.
About the American Red Cross
The American Red Cross shelters, feeds and provides comfort to victims of disasters; supplies about 40% of the nation's blood; teaches skills that save lives; distributes international humanitarian aid; and supports veterans, military members, and their families. The Red Cross is a not-for-profit organization that depends on volunteers and the generosity of the American public to deliver its mission. For more information, please visit redcross.org or cruzrojaamericana.org, or visit Twitter at @RedCross.
###