Ascend Recognized for $150,000 Contribution to Monroe Carell Jr. Children's Hospital at Vanderbilt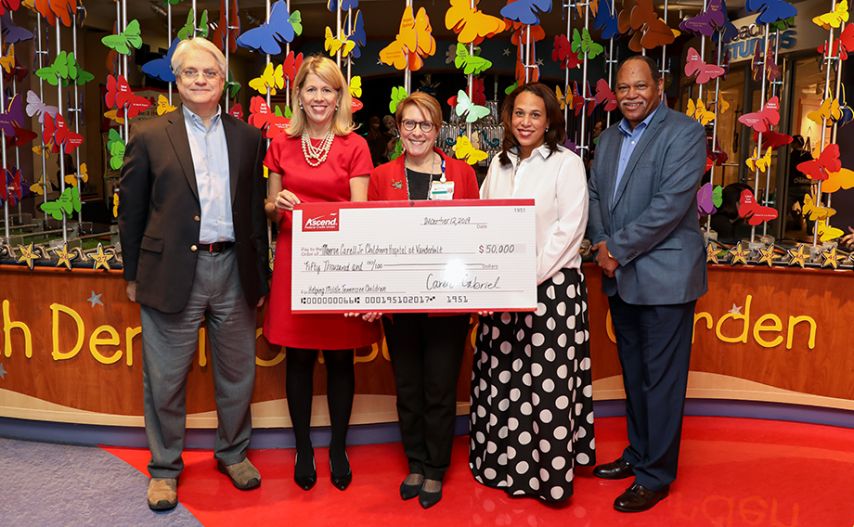 Representatives from Ascend Federal Credit Union recently met with leaders from Monroe Carell Jr. Children's Hospital at Vanderbilt for a check presentation. As the credit union was being honored for their $100,000 donation, Ascend CEO Caren Gabriel announced an additional commitment of $50,000 to support the hospital.
"What a wonderful surprise! We are so grateful to our friends at Ascend Credit Union. Their philanthropic support has enabled our hospital expansion, specifically the opening of the first floor over the summer," said Meg Rush, MD, MMHC, interim President of Monroe Carell Jr. Children's Hospital at Vanderbilt. "Our ability to create innovative, state of the art spaces that better support our clinical programs and patients is truly made possible by our community partners who believe in our mission. On behalf of our patients, families, faculty and staff, I offer heartfelt thanks for this generous gift."
Gabriel was visiting the hospital on Dec. 12 to visit the new Pediatric Heart Institute on the 10th floor of Children's Hospital. The new 38-bed, 40,000-square-foot institute, which opened this past summer, was made possible by donations raised through the hospital's Growing to New Heights Campaign, which Ascend's donation helped fund. A room on the 10th floor was named for Ascend in honor of its commitment to the health of children in Middle Tennessee and beyond.
"We are honored to support Monroe Carell Jr. Children's Hospital at Vanderbilt and grateful for the opportunity to help fund the four-floor expansion project that was supported by the Growing to New Heights Campaign," said Gabriel. "This remarkable facility brings hope to children and their parents throughout Middle Tennessee, across the same region our credit union is also fortunate to serve. But more than that, this hospital is a national leader in pediatric health care. We are proud to be partners with such a renowned institution."
Ascend's association with Children's Hospital is longstanding. In addition to its recent support of the Growing to New Heights Campaign, Ascend has been a presenting sponsor of the River of Hope Radiothon for nine years, and Gabriel has served on the Children's Hospital Advisory Board since 2018.