Ascend Partners With MTSU for Financial Literacy Week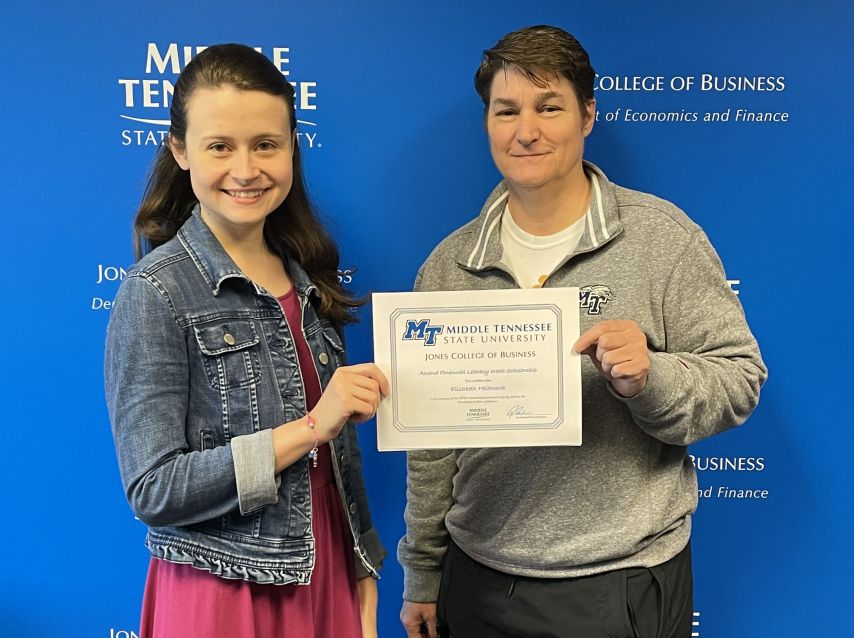 Ascend Federal Credit Union and Middle Tennessee State University joined forces to help the Jones College of Business put on Financial Literacy Week in Murfreesboro in early April, with a select number of fortunate students earning scholarships from their participation in the weeks' events.
Highlighted by keynote speaker Status Pro Inc. Co-founder and CEO Troy Jones, a former college football player turned pioneering innovator at the nexus of sport and virtual reality, the week offered more than 100 MTSU students and nearly 50 local high schoolers a tutorial on best financial practices. Ascend co-sponsored Jones' talk, and also was able to present six scholarships—five to current MTSU students, one to a high-schooler preparing to begin college in Fall 2022—who wrote compelling essays on the reflections and lessons from Financial Literacy Week.
Earning scholarships for their participation were:
Jennifer Cunic, '23 (Theatre Education)
Matthew Forsythe, '24 (Music Recording Arts Technology [MFA])

Rinky Harwani, '23 (MBA)
Elizabeth Heithcock, '23 (History)
Sandra Kamel, '24 (Exercise Science)
Audrey Burks (Blackman High School)
Congratulations to the scholarship winners and thank you to everyone who helped Ascend and MTSU make Financial Literacy Week a success.