Ascend Federal Credit Union Celebrates 20th Financial Center with Grand Opening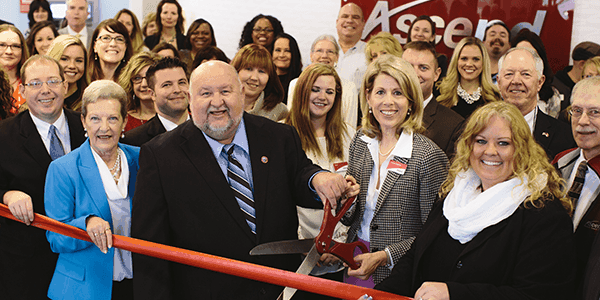 Ascend Federal Credit Union held a grand opening Jan. 19 for its new facility at 231 Waldron Road in La Vergne. The beautiful new financial center, which is the credit union's 20th Middle Tennessee location, features technology that is the first of its kind in the mid-state.
"We've replaced the teller pod design from our other financial centers with the new Personal Assistance Service System, or PASSport," Ascend President and CEO Caren Gabriel said to the crowd in attendance for the grand opening. "Members can use PASSport to complete many of the same transactions performed at a traditional teller line, including withdrawing cash, depositing cash and checks, cashing a check, and more. Plus, there will always be folks here who can assist with other services, such as helping a member apply for a loan or instantly issuing a debit card." Members can access PASSport inside the financial center and in the drive-up.
Along with this cutting-edge technology, Ascend is offering their new La Vergne neighbors another reason to visit. The credit union is giving up to $100 to new members just for opening a checking account. For complete details and restrictions, visit AscendFCU.org/LaVergne.
With $1.992 billion in assets and more than 170,000 members, Ascend is the largest credit union in Middle Tennessee and one of the largest federally chartered credit unions in the United States. The National Association of Federal Credit Unions (NAFCU) selected Ascend as the 2015 Federal Credit Union of the Year. Ascend is federally insured by the NCUA. Membership is limited.